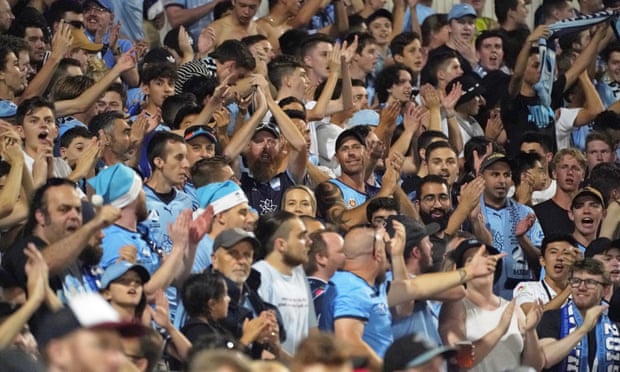 With a new FFA chief executive in place, Australian football begins 2020 with real optimism. But with excitement comes a warning – that rapid overhaul won't happen overnight. Football fans in Australia will hope for lots to cheer about in 2020. As the New Year ticks over – with fireworks or without – a "fresh chapter" begins for Australian football, with a replacement Football Federation Australia chief executive taking the reins from 1 January.
Six months ago it had been announced that David Gallop would end his tenure on 31 December – and despite eventually getting a one-month reprieve on his seven-year sentence, to the chorus of Auld Lang Syne Australian football ushers out the old and welcomes within the new.
After years of acrimony between the code's administration and its A-League clubs, it's a fresh broom that has swept through FFA's senior management. Gone, too, are chief commercial officer Luke Bould and head of national performance Luke Casserly, who departed in November; head of community, football development and women's football Emma Highwood (August); and long-term company secretary Jo Setright (April) – the ultimate vestiges of the Lowy era brushed away, with new chief executive James Johnson to go a lean, mean, senior management team.
As FFA chairman Chris Nikou laid call at his 2019 annual review address, the challenges for Australian football in 2020 remain numerous. In response to the constant clamour for league expansion and/or the introduction of promotion and relegation to the A-League, a national second division white book has flagged a possible 2021-22 beginning for any putative 'B League''. The financial, legal and political hurdles that substitute the way, and therein timeframe, remain sizeable, with all stakeholders within the football fraternity wanting to gather, despite some invariably losing out. https://www.agensbobet888.online/ agen sbobet international
The day-to-day financials of running Australian football's chief revenue driver remain challenging. Broadcaster Fox Sports has made ominous noises about looking to steer back its $57.6m-a-year cash-or-contra exposure amid declining TV ratings and usually stagnating attendances, prompting an interesting (and largely underreported) confession earlier this month that for subsequent three-and-a-half years – the remaining duration of the present broadcast deal – the A-League are going to be nominally administrated by the FFA rather than the clubs.
It's a warning that rapid overhaul, a moment golden era of professional club-run Australian football, won't happen overnight as Gallop slinks out and Johnson strides in – and it's another reminder that for all the talk about unlocking huge new capital investment, 2020 could yet be another year of consolidation and transition.
In Johnson, fans finally get the ''football person" for whom sectors of the community have cried out.